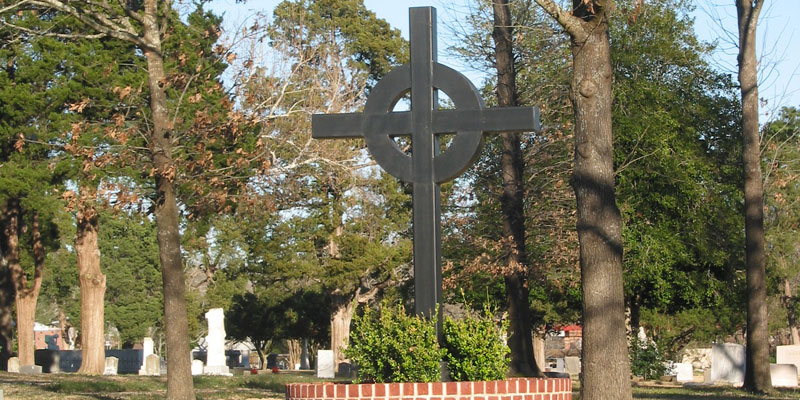 (1891-1959)
There are many notable persons buried in our Athens Cemetery who contributedgreatly to Athens, to Texas, and to the nation, but two of the most notable were Sid WilliamsRichardson and Clinton Williams Murchison, Sr., two of the wealthiest men in America. Clinton Williams Murchison, Sr. was remembered on November 22 of this year withthe dedication of an official Texas Historical Marker at his gravesite as chronicled elsewhere inthis newsletter.
Sid Williams Richardson rests in an unimposing, simply marked grave in theRichardson plot located in the Pioneer Section of the cemetery.
Sid Williams Richardson was born in the Athens on April 25, 1891, the son of JohnIsadore and Nancy Bradley Richardson. His father was a farmer, trader and merchant and had a peach orchard where Sid and Clint Murchison picked peaches together during the harvestwhen they were youngsters. Sid attended school at Bruce Academy in Athens and hisschoolmates and good friends included among others Wofford and John Cain, Clem England,Jimmy Forester, Will Paul Jones, Ike LaRue, Clint Murchison, and Arch Underwood. Theseboyhood friends would all contribute greatly to Athens and to Texas throughout their lives. According to several sources, Sid, when 16 years old, got a job at the Athens cottoncompress, but was fired later for "laziness". But he had several hundred dollars and went toRuston, Louisiana to buy calves. Buying several after negotiating the price down well belowthe market price, he shipped the calves back to Athens, sold them and tripled his money. Andwhile a senior in high school the following year, he made $3,500 trading cattle. Deciding to attend college, Sid first attended Baylor University in Waco, but when hisfather died, he transferred to Simmons (now Hardin-Simmons in Abilene). When his moneyran out, he returned to Athens and became an oil well supply salesman and soon graduated tooil scout and lease purchaser. By 1917, he could list himself as an independent oil producer andhad moved to Ft. Worth.
His finances fluctuated widely, and he accumulated wealth and lost it several timesduring the 1920s. In the early 19SOs, his debts topped $1 million by all accounts. But he waswell established as a millionaire by 19S5 when he opened up the rich Keystone oilfield inWinkler County and eventually operated 80 wells there. He individually leased more oil landthan did several major oil companies, operated three cattle ranches, and owned the Texas StateNetwork, a carbon black plant in Odessa, and the Texas City Refining Company. In 1936, Sid Richardson purchased San Jose Island (also known as St. Joseph's Island),an island about five miles from Rockport and about SO miles up the coast from Corpus Christi,accessible only by plane or boat. The Athens Review reported in 1937 that he was investingfrom $250,000 to $SOO,OOO in new buildings for his ranch which covered the entire island.$100,000 was for the only home he ever owned which included 16 rooms and seven baths andwould serve as his home when away from Ft. Worth. Included in the construction was a newstable for saddle horses and six or more large cattle barns. Sid's nephew, Perry Bass of Wichita Falls, was reported to be in charge of the construction.
Sid Richardson was also concerned that the Longhorn of early Texas history might become extinct. He persuaded writer, J. Frank Dobie, and several cattle inspectors to select aherd of Longhorns for preservation. Through the years, the number of offspring of the initial herd has grown, and they can be found today grazing at San Jose and at a number of stateparks including Lake Corpus Christi and Fort Griffin.
Richardson was a friend of President Franklin D. Roosevelt, Dwight Eisenhower andSenator Lyndon B. Johnson, who visited him at his home on San Jose Island at one time oranother during their trips to Texas. In turn, they entertained Sid when he was in Washington.He was also a friend of Roosevelt's son, Elliott, who had moved to Ft. Worth and with whomhe had several joint business dealings. Elliott Roosevelt was fond of fishing and would stay at Richardson's home on the island when he came to fish in the Gulf Sid Richardson almost never talked to newsmen and would seldom give interviews.
Nevertheless, he was featured in magazines such as Time and Look on occasion, described asthe "billionaire bachelor" (he never married) though it is doubtful if his holdings ever reached a billion. But with so much of his wealth in underground oil reserves, it was hard to put anaccurate figure on his wealth.
He was always mindful of his Athens roots and was generous in assisting localendeavors from time to time. For instance, in 1938 he gave enough money to Athens High School so that the band could purchase much needed musical instruments. And in 1959, hecontributed $100,000 to the building fund of the First Baptist Church of Athens, where he was baptized at age 12 and where he continued to be a member until his death. The money wasused to build a new auditorium at the church and was named for his mother, Nancy BradleyRichardson, who was a devoted member there for over 40 years.
Regarding his reputation as a tireless deal maker, Mr. Richardson was once quoted assaying, "Only one thing I know ... I'll still be tradin' when they bury me." As he predicted, afterarriving at San Jose Island from his office in Ft. Worth, he died quietly in his sleep of anapparent heart attack on September so, 1959, after a full day of activities.
Funeral services were held at the Broadway Baptist Church in Ft. Worth, conducted byRev. H. Guy Moore and assisted by Evangelist Billy Graham. A business associate said Richardson and Graham had been good friends for about 11 years.
He was extolled by Rev. Dr. Graham as a businessman of honesty and integrity, a loyal Texan, a patriotic American, a philanthropist who preferred no publicity and, in his own way, aman of deep religion.
A dramatic personal farewell was made by Graham at the end of the eulogy. Leaningfrom the pulpit, which was adorned with a white floral cross sent by President and Mrs.Eisenhower, Graham looked at the casket and said: "To you, Mr. Sid, you have been a wonderful friend. We love you and we don't say goodbye. As the French say, 'Till we meetagain."
Senator Lyndon B. Johnson and Speaker Sam Rayburn attended the funeral. Col.Robert Schultz, military aide to President Eisenhower and a friend of Richardson represented the President. Members of the Ft. Worth City Council recessed their meeting andattended, along with scores of prominent Texans.
He was survived by two sisters, Mrs. E. P. Bass of Ft. Worth and Mrs. Howell E. Smithof Dallas; his nephew and business partner, Perry R. Bass, and a niece, Mrs. James B. Kirksmithof Dallas.
Graveside rites were held later at the Athens Cemetery, conducted by the Rev. LeeRamsour, Pastor of the First Baptist Church of Athens.
Contributed by Art Hall
Athens Cemetery Board Member & Historian